Hancocks Devon Cider is a family run business and we pride ourselves in Producing Traditional Devon Cider.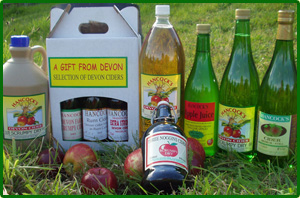 whether you're a cider drinker or just wanting to find an alternative to your usual tipple, why not try Hancocks Devon Cider.
5 Lit bag in boxes are ideal for barbecues a lovely refreshing drink for those long hot summer evenings!
We also sell miniature bottles very popular as wedding favours; we can also arrange a customised label for your special day.
We are no longer open to the public and now only wholesale our cider, so for your nearest stockist please do get in contact with us, details on our
contacts page
.
Thank you for taking the time to look at our website.